8 Tips on How to Survive your First 6 Months as an Entrepreneur
Shooting Entrepreneurial Jump Shots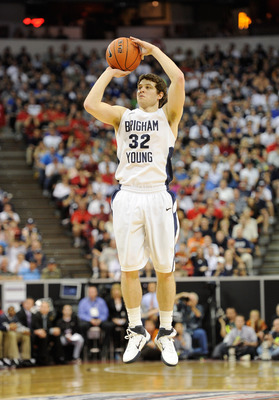 When I started 3Degrees after graduating business school this past May, I was extremely defensive. My friends were all going into banking, consulting, or marketing, so they didn't understand what I did all day. I didn't know what I did all day either, but I wasn't about to tell them that. I'd shake my head, act stressed out, and say "man the work never stops." But the truth was, I didn't know. This was my first start up, and I was alone. I played a lot of basketball growing up. When I wanted to get better, I'd go to the gym and shoot jump shots. It was simple. My friends' innocent questions made it all too clear that I didn't know how to shoot entrepreneurial jump shots, so I got defensive.
Why I'm writing this, and why you should read it.
Entrepreneurial op-eds are usually distributed through well-known outlets by popular writers or entrepreneurs. Popular entrepreneurs are popular entrepreneurs for a reason - they've been successful. That removes them from 99% of the entrepreneurial world, and in my mind marginalizes, if only slightly, what they have to say on this specific topic. Whatever hardships they fought were always worthwhile, because things worked out in the end. Soured personal relationships, 100 hour weeks, years of eating PB&J - it's all looked back at fondly. They're now influential enough to write an op-ed for TechCrunch. Not me. I'm a nobody. Just like thousands of other entrepreneurs across the globe. My soured relationships sting; my hundred hour weeks take their toll; I have no spot in Y-Combinator and no million dollar term sheet. Thankfully, I love PB&J.
My light is at the end of my tunnel, not in my rear view mirror. I have no idea if this will all be worth it. My product motivates me, because I truly believe it (and I) can make people happier. But my fear motivates me as well. I'm terrified that at the end of this I'll wind up broke and alone. This fear is real. I'd argue this makes my writing on the early stages of entrepreneurial life far more important (or relevant, at least) to aspiring and early-stage entrepreneurs than anything you'd read from Eric Ries or Fred Wilson. Fear has been taken out of their equation. Don't get me wrong - they're brilliant and deserve every ounce of respect, press, and influence they possess. However, for an accurate portrayal of the early days of an entrepreneur's existence, you need to listen to the person who's got the train bearing down on them - not the conductor.
8 Tips on how to survive, and even thrive, during your first 6 months as an entrepreneur:
No one survives the first 6 months of his or her entrepreneurial life unscathed. Going into it with an idea of what you're getting into, and ways to avoid common pitfalls, will help you make it through less … scathed. Follow these 8 steps and you will be successful. Or at least in a better spot after 6 months than I am now.
1.     Take chances. I almost titled this blog "what I learned from an 11 year old kid," then drew a whole bunch of parallels to the Greyson Chance video from a few years ago. Kid took a giant risk, sang a song by Lady Gaga, performed it in front of his (middle?) school, and honestly got a mixed reaction. You'll get mixed reactions to your product as well. I've been told 3Degrees is creepy a bunch of times. But I've also been told it's brilliant. If you watch the video, GC gets this same vibe – the blonde girl thinks he's the next Facebook, while the girl in front of her thinks he's a poor man's Ask Jeeves. Either way, he took a risk and wound up on Oprah. Maybe it was Ellen. I forget. Had he decided the song was too risky, he would still be sitting at home, just another 13 year old with a bad haircut. When you truly do something creative or innovative, there will be a lot of people who don't like it. That doesn't mean your wrong, or even that they won't eventually like it.
I see people in three groups - those who can articulate what they want (very rare), those who can't articulate it, but know it when they see it (less rare, but still a minority), and those who need to see other people try something and like it first before realizing they may like it as well (the majority). People fear change, and being an entrepreneur is all about packaging and presenting change. It's not easy, but it's worth it. For example, had I never written this post, you would have never read it. I did, and you did. The lesson, as always, if you take risks you might wind up dating the popular girl and being featured on a daytime television show.
2.     Learn what productive is. When I worked at Thomson Reuters after college I characterized a productive day as one where I was busy every second of the day. I filled my free time with meetings and busy work, and was mentally and physically exhausted when I got home. And that's fine for the job I had. It's better than sitting on Facebook all day. But, entrepreneurship is different. A busy day filled with mindless emails and 16 hours in front of the computer doesn't mean anything. Use tools to figure out and organize what you're doing, but most importantly leverage the freedom being an entrepreneur gives you. Phone calls break up my day, so I try to only schedule them all on Tuesdays. I get lazy around 3pm, so I go to the gym or play squash with my buddy. When I hit a zone, be it at 11am or 11pm, I don't stop. If you're doing good work, work until 6am. Sleep until 2pm the next day. If you work best on a schedule, follow that schedule. Be responsive and aware of patterns, and shift them to maximize productivity. An hour at the gym is often more productive for me then my 10th straight hour staring at my computer. Find what works for you. You're the boss, so face time means nothing. Results based management at its finest.
3.     Use Social Media. Twitter is amazing. Influential people with great ideas will respond to you. James Altucher is my favorite blogger. I've never met him, don't know anyone who knows him, and he would never in a million years read an email of mine let alone respond to it. He had Q and A on Twitter last week, and he answered my question. Just like that. And it was incredibly insightful. Every tweet is like an opportunity to reach people and build your industry influence. Soon you could be like Tristan. I'm currently building 3Degrees to help you meet all the people that will help you succeed. Try it out. 
4.     Be the Face of your Product. Particularly for Marketing. I've found no topic more controversial than Marketing. I've heard everything from "Marketing is for sh*tty companies" to "Marketing  will be the sole reason this product succeeds or fails." Like everything, I imagine it's in the middle somewhere. But wherever you stand on the marketing topic, your product will have some sort of public face. That face has to be you. It needs to be clear your blood courses through the veins of your product, that years of your life were poured into this, and that you did it because you believe in your product. The face of the company needs to show that, and you need to find ways to do it for free.
A quick example: Huffington Post knew they had good writers and interesting points of view, but they had no audience when they were founded. So, they responded to articles in well-respected newspapers and magazines -constantly- until some were read. These thought provoking articles caused the original writers to publish rebuttals, citing the Huffington Post, and the word was out.
At the early stage of a start up, you don't have cash. You've got time, and you've got talent. That time is extremely limited, and you're talent is likely targeted. What do you do better than anybody else? Exploit that. I'm a good writer, I have a network of people smarter than me who are happy to do me favors (so far, more on that below), and I'm good at connecting things. I see two ways to build and market my product - leverage my network and my writing skills. I'm taking a page out of the Huffington Post's book and hoping blogs and media outlets publish things I write. This will be different for everyone. If you're good at building marketing frameworks and A/B testing, then market traditionally. If you can attract people through incredible presentation skills, then present anywhere and everywhere.  Whatever you're good at doing, do that. Leaning on one extraordinary skill is better than going through the motions with a few average ones. LeBron James is better than just about everyone in the world at dunking and dressing like a 14 year old prep school nerd. So he sticks to those things (and yes, I just wanted to post that picture). 
We live in a world where you can't compete in a commodity market. You need to provide value, you need to be unique, and you need to be genuine. The only way to be genuine is to leverage your strengths to give your company your face. People don't buy what you do, they buy why you do it.  (that's mandatory entrepreneur viewing, by the way).
5.     Celebrate Victories... These will be few and far between early on, so celebrate them. If you have a team, go out with your team and laugh and sing karaoke. If it's just you, treat yourself to a nice dinner or take an evening off.
...But learn from them as though they were losses. When we fail, we go back to the drawing board and figure out what went wrong. Make sure to hit that drawing board when you succeed too. Was it luck? Skill? A specific person, contact, or tactic?
6.     Exploiting your friends sucks. You possess three things. Your skill-set, your network, and your personality. You've got to use all three to succeed. Your skill-set and personality are on you. Your network requires you to ask a lot of questions, and more importantly, a lot of favors. You don't want to be a mooch, but you need these people to succeed. You need to ask them for things constantly. My buddies in finance probably aren't going to ask me to run through their P&L at the end of the day. However, I sure am going to ask them to go out of their way to sign up for the site, tell their friends, Like my Facebook page and Follow my Twitter account. This can, and will, get annoying to them, but you can't be timid. Choose your spots, buy them coffee, thank them profusely, and genuinely appreciate their feedback. I met one of my investors because a friend of mine was introduced to him at a wedding and he pitched my idea because they had nothing else to talk about. 
7.     It will happen to you. Everything people say entrepreneurship does to you, it does to you. It'll strain every relationship you have. It'll change your sleeping patterns, your eating habits, your physical appearance. I didn't believe it would happen to me. It did. It is to this very moment. It'll produce the lowest lows and the highest highs you've ever felt.
8.     Love every minute. Because you're in the arena. You've chosen a different path. You're the one who has an opportunity to make a difference. I've written about how entrepreneurship is the great equalizer, the final frontier for meritocracy. Yeah it's hard. Yeah it'll push you out of your comfort zone. Yeah reaching your potential is scary. But it's worth it. I wrote this article because I'm like you. I'm staring down a train. And I wouldn't have it any other way.
Anyone want to tell me how to get through the next 6 months?